THAT THE KINGDOM OF GOD MAY COME AND GOD'S WILL BE DONE IN GOTHENBURG AS IT IS IN HEAVEN.
Through a church that focuses on the CENTRALITIES of the Christian faith, without letting anything hide it.
That with SINCERE hearts is seeking and WORSHIPING God, and where the preaching is life-transforming and UNWAVERLINGLY BIBLICAL,
a thriving and down-to-earth KINGDOM COMMUNITY of SPIRIT-FILLED everyday Christians,
who FOLLOWS JESUS in our city.
God's kingdom, our vision - We wish to follow Jesus in order to see his kingdom come and his will be done in our city and throughout the whole world.
Ancient - Future - We are a church with roots in the Church's rich history, tailored to the time that we live in and looking towards the future.
Down-to-earth community - We are a church that affirms humanity. God has called us to be genuine and to be close to one another.
Gospel-Centered - We are a church where the Gospel is the lens through which we interpret the entire Word of God. The Gospel is the entire story of how God saves humanity, from creation and the fall to the atonement and restoration.
Organic growth - We are a church that seeks to grow naturally and with the pace that God has willed.
Prayer and worship - We are a church where our love and need for God is expressed through song, prayer and adoration.
Our team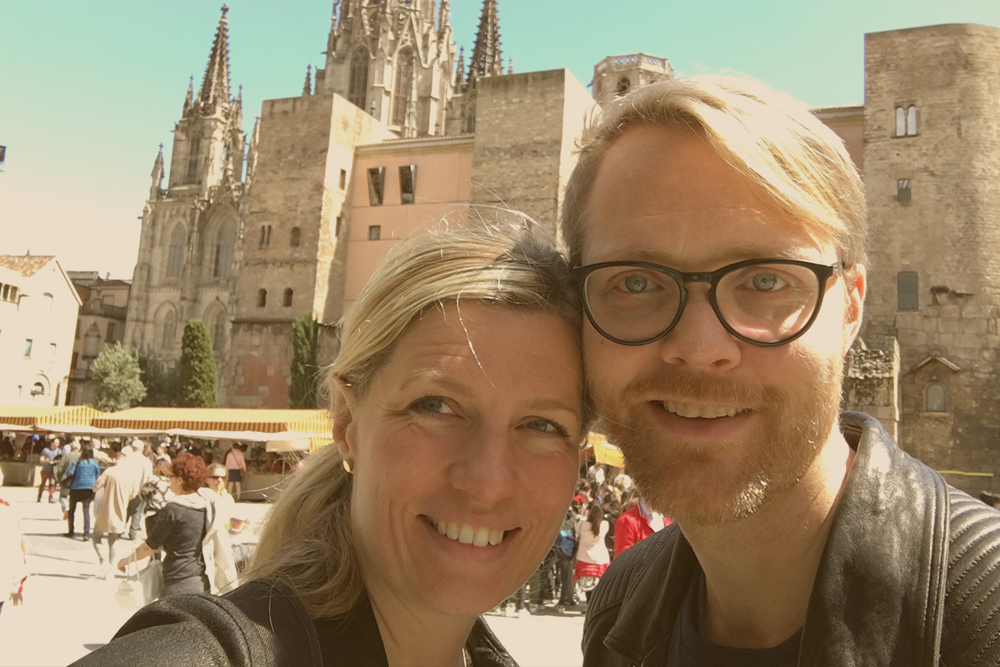 Jakob Rönnerfors - Lead Pastor
Emelie Rönnerfors, Joel MacInnes, Pierre Nordling, Tobias Bohlin - Lead Team
Life is formed though community – We wish to be a church that comprises all of life, where we learn to love God, each other and ourselves. We have a vision of a down-to-earth community that follows Jesus in our city. There are many things in a big city that seek to capture our hearts and minds. It is therefore crucial that we have fellowship with other Christian brothers and sisters so that we can be integrated into a strong ecosystem of relationships that shape us to follow Jesus in our city.
Fellowship at CENTRO is primarily developed through what we call Communities. Our Community-leaders work to create meeting places outside of the worship service where we can grow in relationship, fellowship and closeness to one another. We even meet in home groups to share life with one another, study the Bible and pray with each other.
Classic Orthodoxy - We hold fast to the classic Christian ecumenical creeds as expressed in the Apostles' and Nicene Creeds.
Reformational evangelical - We are broadly anchored in the Reformation, confessing the Reformation's core teachings of: Scripture alone, Christ alone, Faith alone, Grace alone, Glory to God alone as well as the Church's need for Constant Reformation. We consider ourselves a part of the global evangelical movement whose theological emphases are well expressed in the Lausanne-Covenant..
Anchient - Future - We wish to combine the Church's historical roots with God's ongoing work in order to move towards the future. We look back and move forward.
Believer's baptism - We exclusively confess and practice believer's baptism through immersion. Baptism is connected to discipleship and following Christ. We welcome everyone who confesses to being baptized into Christ in the name of the Father, Son and the Holy Spirit as members of our church.
Charismatic - We believe in the Spirit's active work in restoring God's creation by equipping men and women in different ways for the Great Commission and for fellowship with one another.
Missional - We are called to follow Jesus out into our city and to the ends of the earth as witnesses to the risen Christ, planting Churches and working for God's will to be done on earth as it is in heaven.